BirdWeb: Seattle Audubon's Guide to the Birds of Washington State
Bird of the Week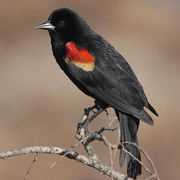 The song of the male Red-winged Blackbird is an omnipresent sound in any Washington marsh in spring. Males of this polygamous species display their colorful shoulder-patches, known as epaulets, as they sing to defend their territory, which can contain up to 15 females. Three-quarters of Red-winged Blackbirds' annual diet consists of seeds, but during the breeding season they consume larval dragonflies and caddisflies as they emerge from the water.
Birding Site of the Week

Take a trip to Bowerman Basin and marvel at the sheer magnitude of bird migration. Tens of thousands of shorebirds - from Black-bellied Plovers to Red Knots and Western Sandpipers - stop to refuel at the food-rich mudflats of Bowerman Basin on the way to their Arctic breeding grounds. Check the tide tables and arrive a couple hours before high tide to watch the flocks come in. A spotting scope will be helpful.
Get Involved with SAS

Seattle Audubon has numerous resources available to you.