BirdWeb: Seattle Audubon's Guide to the Birds of Washington State
Bird of the Week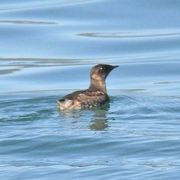 Marbled Murrelets are reliant on old-growth forests, where females will lay a single egg on the mossy limb of a tree hundreds of feet off the ground. Adults take turns foraging for fish and krill in the closest body of salt water, up to 50 miles away. The nest site of this species - not discovered in North America until 1974 - was one of the last great ornithological mysteries.
Birding Site of the Week

A drive on the Old Vantage Highway through the Quilomene Wildlife Area will yield some sagebrush specialties, such as Sage Thrasher and Brewer's and Vesper Sparrow. The Sage Sparrow is already back on territory; listen for its song at several stops along the road. Haven't been there in a while? You may be startled by the amount of wind energy development.
Get Involved with SAS

Seattle Audubon has numerous resources available to you.